---
Omega fatty acids are healthy fats that can provide numerous health benefits. Since your body can't produce these dietary fats, you need to consume a balanced ratio of omega-3, omega-6, and omega-9 fatty acids to maintain optimal health. Fatty fish are loaded with essential fatty acids, so incorporating these healthy fats into your diet shouldn't be too difficult. But for those following a vegan or vegetarian diet, or worry about mercury contamination in seafood, ahiflower oil provides an excellent plant-based alternative.
Disclaimer: This article includes links to lab-verified ahiflower oil products that help support this publisher. After being universally banned, de-platformed and de-monetized by every tech giant for promoting natural health, nutrition and avoidance of toxic pharmaceuticals, we've helped millions of people attain improved health through clean, lab-verified nutrition and superfood solutions. Your support is greatly appreciated.
Ahiflower oil is derived from the seeds of the Buglossoides arvensis plant. Once considered a weed, this herb is now grown sustainably and cost-effectively as an agricultural crop and is valued for its remarkable oil and nutritional content. In fact, ahiflower oil is the richest non-fish source of omega fatty acids on the planet.
Other plant-based oils, such as flax, chia, and hemp seed oils, only contain alpha-linolenic acid (ALA), a type of omega-3 fatty acid that can be used as an energy source for your body. Around three to six percent of the ALA you consume is converted into docosahexaenoic acid (DHA) and eicosapentaenoic acid (EPA), which are fatty acids that support the healthy functioning of your brain, immune, nervous, and cardiovascular systems. In comparison, ahiflower oil contains stearidonic acid (SDA), which is more readily and more efficiently converted into DHA and EPA. Up to 30 percent of the SDA you consume can be converted into DHA and EPA. A study also revealed that EPA conversion is 4x more efficient with ahiflower oil than with flaxseed oil. (Related: Ahiflower: The richest non-fish source of omega fatty acids on the planet.)
No other plant-based oil comes close to the nutritional profile of ahiflower oil. Not only is it an excellent source of omega-3 fatty acids, but it also provides a uniquely balanced combination of omega-6 and -9 fatty acids. An imbalance in your intake of these healthy fats can lead to chronic health issues. Fortunately, you can get a daily balanced ratio of all these dietary fats in one teaspoon of ahiflower oil.
Health benefits of ahiflower oil*
Ahiflower oil contains both ALA and SDA, as well as the heart-healthy gamma-linolenic acid (GLA), linolenic acid (LA), and oleic acid (OA). Its abundance in dietary fats allows ahiflower oil to offer a number of important health benefits.
Supports healthy brain function: Regularly consuming healthy doses of omega fatty acids supports the overall health of your body, especially healthy brain and cognitive function.
Maintains a healthy cardiovascular system: Ahiflower oil is packed with heart-healthy omega-3 fatty acids. Studies show that regular consumption of ahiflower oil supports good cardiovascular health.
Supports healthy joints and mobility: The ALA in ahiflower oil has potent antioxidant properties that support healthy joints and tendons.
Promotes a healthy immune system: Omega-3 fatty acids are important to support healthy immunity. Because ahiflower oil is rich in these healthy fats, it can help keep your immune system functioning at an optimal level.
Uplifts and elevates mood: Regular consumption of healthy fats such as those found in ahiflower oil can encourage a positive mood.
Enhances athletic performance: Your body needs energy to engage in rigorous physical activity. According to studies, supplementation with ahiflower oil may result in improvements in athletic performance.
Supports healthy vision: Poor intake of DHA is linked to chronic eye problems. Supplementing with ahiflower oil can easily boost your intake of DHA and support healthy eyes.
Supports healthy joints and bones: Research indicates that omega-3 fatty acids can maintain healthy bones and joints.
* These statements have not been evaluated by the Food and Drug Administration. This product is not intended to diagnose, treat, cure or prevent any disease.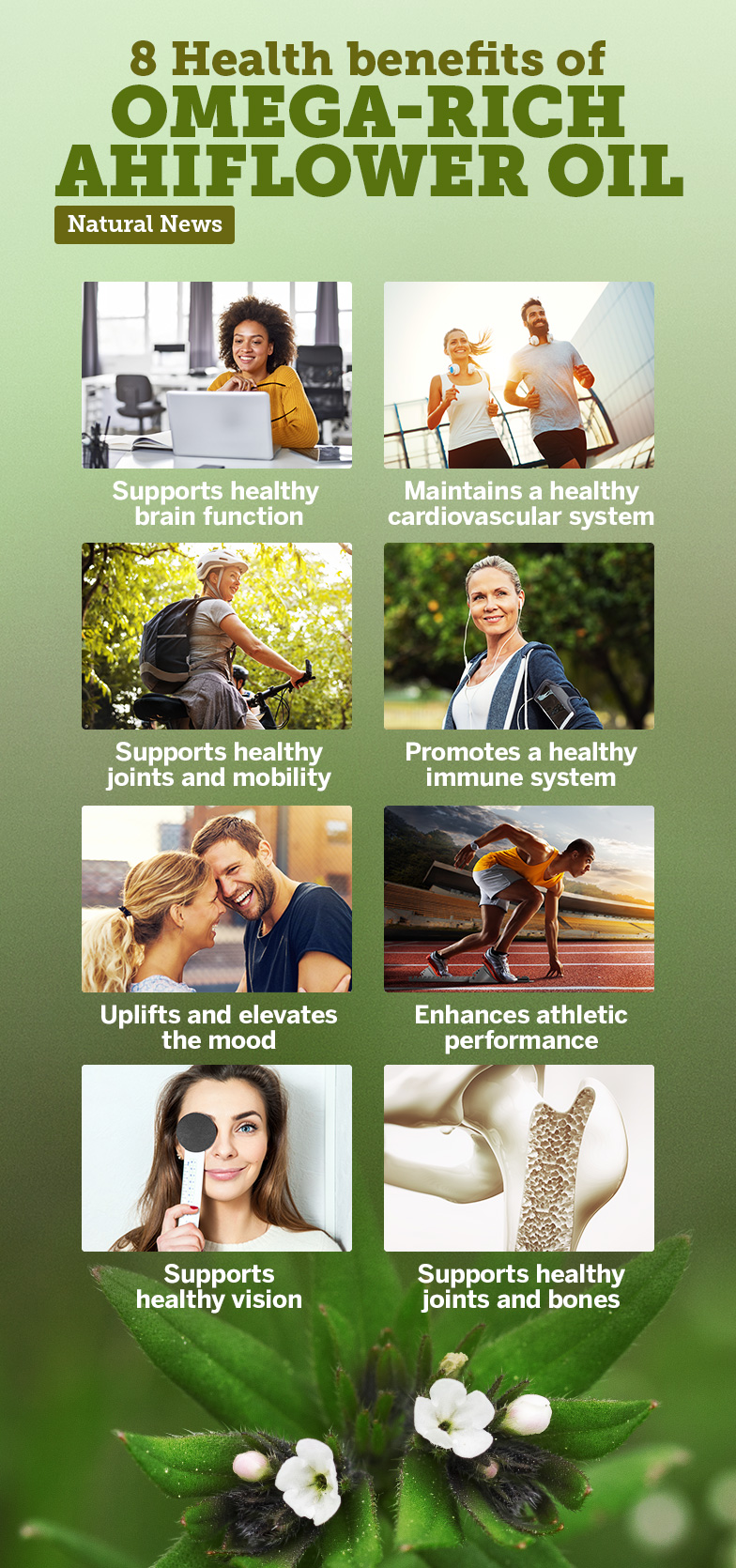 While fish or krill oils are excellent sources of healthy fats, these tend to be contaminated with mercury, which often accumulates in the bodies of fish and other sea creatures. Ahiflower oil is a far healthier alternative as it is not contaminated with mercury found in fish-derived omega fatty acids. Get only the cleanest lab-verified ahiflower oil and softgels at the Health Ranger Store. Easily incorporate healthy fats your body needs by incorporating ahiflower oil into your diet today.
Sources include: